President Trump won't invite 2018 NBA champion to the White House
---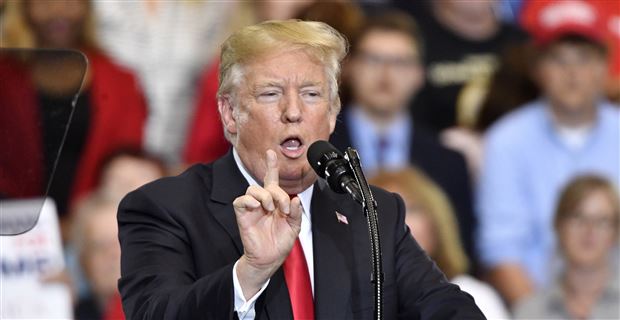 The winner of the 2018 NBA Finals shouldn't be expecting an invitation to the White House. 
On Friday morning, President Donald Trump told reporters that neither team – referring to the Golden State Warriors and Cleveland Cavaliers – will be invited for a visit to the White House upon winning the NBA title this year. 
"I didn't invite LeBron James and I didn't invite Steph Curry," Trump said before leaving for the G-7 summit in Canada, via USA Today. "We're not going to invite either team, but we have other teams that are coming. If you look, we had Alabama — national champion. We had Clemson, national champion. We had the New England Patriots. We had the Pittsburgh Penguins last year."
Trump's comments come days after he canceled a White House visit from the NFL Super Bowl champion Philadelphia Eagles, and also after Cavaliers forward LeBron James said that neither his Cavaliers nor the Warriors would even accept a visit to the White House as a winner of the NBA Finals.
"I know no matter who wins this series, no one wants an invite anyway," James said, via ESPN. "It won't be Cleveland or Golden State going." 
Warriors stars Stephen Curry and Kevin Durant said they agreed with James. 
Though the NBA champs won't be going to the White House, the NHL champs likely will be, as Trump said he believes the Washington Capitals will make a visit to the White House in the near future after clinching their first Stanley Cup title with a 4-3 win over the Vegas Golden Knights on Thursday night.
"I think we'll have the Caps. We'll see," Trump told reporters. "You know, my attitude is if they want to be here, the greatest place on Earth, I'm here. If they don't want to be here, I don't want them."
This will be the second consecutive season that the NBA champion didn't visit the White House. After winning the 2017 NBA title, the Warriors spent time with local children at an African-American history museum in Washington D.C. instead. 
"The White House is a great honor but there's extenuating circumstances that we felt that we're not comfortable doing," Warriors guard Klay Thompson said at the time, via ESPN. "We're not going to politicize anything, we're just going to hang out with some kids, take them to an African-American museum and hopefully teach them things we learned along the way and life lessons, and we'll still be getting some great memories." 
---