By all intents and purposes, Trevor Ariza's days with the Phoenix Suns appear to be numbered. If this is so, then Dragan Bender has one last chance to prove he belongs in the NBA, and he must take advantage.
The Trevor Ariza/Phoenix Suns experiment was a failure.
Without a point guard, Ariza is not getting the shots that he has thrived on for so many years and his play has suffered as a result.
The player that we thought was going to be an excellent 3-and-D player who's success in the NBA and veteran role on this roster was supposed to be a spark and catalyst for the young players, has not materialized, and now that Ariza is not with the team for a still-undetermined amount of time, it just feels more and more likely that as soon as he can be traded, he will be.
For what? Who knows. But the rumor has been that the Houston Rockets will accept him with open arms as soon as possible, and now that they have waived Carmelo Anthony, they will have both a spot on the roster and the rotations for Ariza to step right back in.
(As a free agent signee, he cannot be traded until December 15, so he still has about a month left before Phoenix can officially move him).
I believe that it is possible that the Houston Rockets will be willing to trade a first round pick for Ariza as his role on that roster is too important to them to try and under-bid, and while that pick isn't that  valuable as it will be in the high 20's, if Phoenix sits Ariza out for the time being thus keeping him healthy, it should be a worthy return for a player that Houston probably believes will help them turn the season around (the Rockets are hovering at around .500 right now) and potentially make them a championship contender once more (obviously Marquese Chriss just ain't cutting it. In fact, he has been down right awful).
This is all speculation of course, but the pieces do all fit together and the logic is sound. So now we wait, with only a few weeks before we will know for sure, whether or not James Jones will play an early Santa Claus for the Rockets like he did with Tyson Chandler and the Los Angeles Lakers, or if he'll be a Christmas Grinch and hold onto Ariza, or trade him to another contender who offers Phoenix a better return.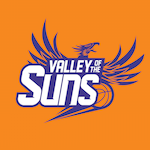 Want your voice heard? Join the Valley Of The Suns team!