As the calendar flips over to 2019, let's meet the Phoenix Suns team that WANTS to be the first Suns team to make the playoffs in nearly a decade.
The Phoenix Suns finished the 2018 calendar year with a 16-66 record, coincidentally tying the franchise's inaugural season's record as the most futile period in 51 years of existence.
But hope springs eternal, this is a new year, and how the Phoenix Suns ended 2018 most definitely engendered hope and faith that the future will be brighter than the most recent past, no matter who is at ownership's helm.
Let us meet the new Phoenix Suns, the core and the role players, those athletes who believe that they are at the heart of who will be the first Suns team to make the playoffs since 2010.
T.J. Warren
I have long compared T.J. Warren to Cedric Ceballos, and have predicted that Warren would either win the league's Most Improved Player of the Year or the Sixth Man of the Year Awards each of the last three seasons.
While Warren has both improved and impressed every season of his career thus far, his incredible leap in 3-point shooting from last season to this has been nothing short of miraculous and has apparently entrenched him as one of the core players who the team will build around in the future.
From a 22% 3-point shooter in 2017-18 and looking timid every time he took an attempt, Warren is currently pacing the Suns from beyond the arc at 43.7%, and on a respectable 4.4 attempts per game.
Maybe I should make the prediction that he will follow Devin Booker as the league's All-Star Weekend 3-point champion.
Warren's growth has turned him into a regularly predicted trade piece from almost any blog post and trade prediction found online, to as close to one of the untouchables on the roster as their is.
The Phoenix Suns missed Ceballos in the 1993 NBA Finals due to an untimely ankle injury, but the franchise shouldn't put themselves in a position to miss Warren in future playoff series', and leave him right where he's at.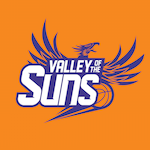 Want your voice heard? Join the Valley Of The Suns team!